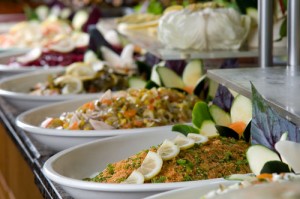 The last thing you want is stress—a difficult thing to avoid in the corporate world, double booked full of meetings, budgets and deadlines. Seasoned Catering establishes an environment of ease and comfort, and does the worrying so you don't have to.
Whether you're hosting a cocktail party for a small business or a corporate luncheon for a few hundred, Seasoned Catering will customize a menu particular to your needs and expectations.
Our experience and artistic taste foster an inexhaustible repertoire of suggestions and ideas that we're excited to present to you. And if you already know exactly what you want, all the better!
From continental and buffet breakfasts and brunches to elaborate corporate dinners and galas, we maintain an unblemished record of efficiency, execution and integrity.
We consistently present our clients with affordable, health conscious plans, while maintaining the highest quality in our product. Seasoned Catering even offers a reliable drop off service reaching across Fairfield County.
Relax, be happy and healthy. We want you to enjoy yourself.
Check out some of our menus below: